6" Liquid Wheels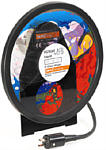 The original and most popular projection effect since their appearance in the swinging 60's!
These can be fitted directly to the OPTI Aura projector and require a Wheel Rotator to mount them on an OPTI Solar projector.
6" wheels are now available with either a bossed or magnetic fitting - please be sure to choose the right type. You may need the Magnetic Wheel Rotator Adaptor to fit a magnetic wheel. More information...