All about 'Active Gate'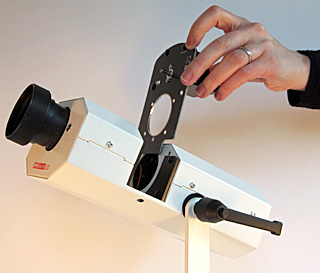 2017 sees the introduction of 'Active Gate' projectors and effect rotators from OPTI - a significant advance in OPTI lighting effects hardware. Here's everything you need to know about Active Gate including information on backwards compatibility...
What is Active Gate?
From 2017 manufacture onwards, the OPTI Solar projectors no longer have side power connectors for wheel rotators. Instead, they have an 'Active Gate'. The gate of the projector (where the effect rotator slides in) has electrical contacts built-in allowing rotators to receive power without the need for a connecting cable. The rotators are now 'Plug n Play'! This makes use of the projector quicker, simpler and it should be more reliable.
To accompany the new projectors all existing Solar effect rotators have been redesigned to use the Active Gate feature. They don't need a cable/plug attached anymore. Just slide the rotator into the projector and it'll work! The new rotators are also a much neater design than before with the motor fully enclosed.
Can the new rotators be used with older projectors?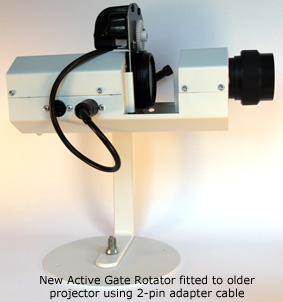 Yes! The new Active Gate effect rotators can be used with older projectors which use 12v 'Beau' outlet sockets by means of an adapter cable. Simply attach the 2-pin adapter cable to the back of the Active Gate rotator and then use it like an original OPTI effect rotator.
The 2-pin adapter cable is not included with rotators - it needs to be purchased as a separate accessory.
Can old rotators be used with new Active Gate projectors?
No. This is an important change. The new Active Gate projectors cannot be used with old accessories which have a 2-pin 'Beau' connecting cable. They are only compatible with the new Active Gate rotators.
What about other powered accessories (prisms and mirrors)?
The 'front of lens' powered accessories such as the Solar Panoramic Rotator and the Solar Multi Mirror were previously powered by the same 12v outlets on the side of a Solar projector. These accessories will still need to be connected using a power lead but the connector will change. During 2017 these accessories will be updated to use a new jack connector instead of the existing Beau plug. This jack plug fits a power outlet on the new Solar Active Gate projectors. It is anticipated that an adapter will be available to allow the new powered prism/mirror accessories to be fitted to an older projector – this is to be confirmed.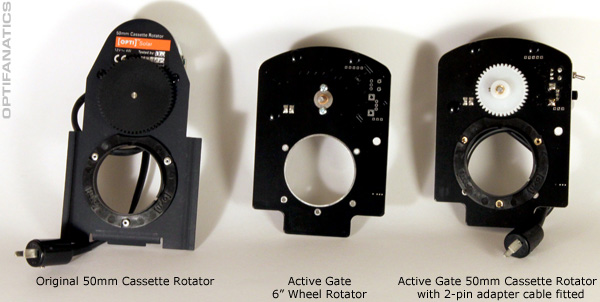 What else has changed?
The design of the new rotators looks quite different. The motors are now enclosed and we think you'll agree they look a lot nicer.
Also look out for new features on certain rotators. For example the 50mm Cassette Rotator now offers variable speed and direction!
What's available?
All Solar projectors and wheel/cassette rotators are now Active Gate models. Other powered accessories (Prisms and Mirrors) are available in either active gate or non-active gate versions.